Celebrating Go-live Day Success with Our Revolutionary Odoo Moove Solution
Joël Grand-Guillaume
05.10.2023
This month marks a significant milestone - the go-live day of a pivotal project spearheaded by a fantastic collaboration between Camptocamp and one of our esteemed customers in the e-commerce industry specializing in furniture and gardening.
Project Overview
Spanning 20 months, the project was built on the robust foundations of Odoo, integrating various facets such as finance, accounting, sales, and logistics, across multiple companies and warehouses. The icing on the cake is our innovative Odoo WMS stack, "Moove", that facilitated operations in an expansive 50,000 square meter warehouse.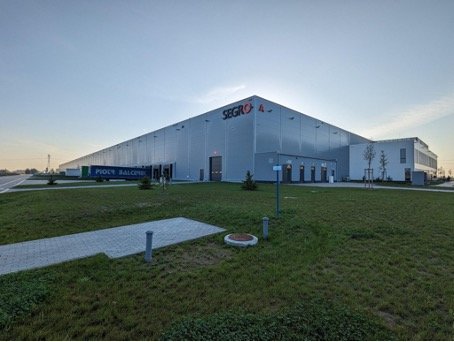 Challenges Tackled
As we reminisce on our journey, we wish to share the intricate challenges we navigated successfully.
Sourcing and Carrier Selection: As an e-commerce company with multiple warehouses, you will encounter your first challenge in sourcing goods from the appropriate location and shipping them through the most relevant carrier.

Complexity: Several warehouses and a variety of products with very different physical attributes to map with the best suited carrier.
Solution: Odoo Moove enabled rules relating to stocks level and product packaging to streamline the sourcing and carrier selection process. This results in one or several shipments from different warehouses per customer order, optimizing costs.

Optimizing Delivery Flows: As the size of warehouses increases, it becomes a game-changer to apply the most relevant process for a given situation. The choice of carrier, the location of products, or their specific attributes often play a key role in determining whether a delivery should follow flow A or B.

Complexity: Balancing orders with different product attributes and their locations with carrier conditions to establish efficient delivery routes.
Solution: Moove facilitated the creation of various delivery routes based on pertinent criteria, enhancing the efficiency of the delivery process. All this is configurable through the interface and needs no development.
A good usage example of this is "pre-packaged" goods that are stored in the same warehouse alongside raw products. Pre-packaged means that your goods are stored in appropriate packages for shipping them directly. In that case, you probably want to get a fast tracked process for "pre-packaged" goods to optimize the carrier labeling while for raw products you may want to favor steps to control quantity and package them smartly.
Achieving Parallel Workflows
An advantageous byproduct of categorizing deliveries into specific flows was the ability to work in parallel, promoting efficiency and productivity. This was achieved through:
Release Channel Dashboard: A tool offering real-time insights to efficiently manage workloads and assign tasks judiciously.
Dynamic Allocation: A feature that auto-categorizes operations based on the existing stock levels during processing time, ensuring seamless operations.
Warehouse Mapping with Odoo Moove
The system adeptly handles complex warehouse maps, delineating different operation types for various warehouse areas, directing operations smoothly and precisely, an effort to streamline processes and respect each area's constraints.
Revolutionizing Picking and Packing
Lastly, the heart of warehouse operations, picking and packing, was revolutionized through different flows, to get the most suited one for each specific case.
In the context of this project, we had around twelve different flows to be as efficient as possible, among them we can mention a few examples:
Single product order via DHL -> super fast-tracked flow only wrapping & labeling
Pre-packaged products via DHL or DPD -> no packing step, fast labeling
Mixed products via DHL or DPD -> packing and shipping standard steps
Cushions -> special process for that product category using special shelves for packing
Complex order -> batch picking then sort by customer order
Let's look at two of them in more detail.
Batch picking for complex order: Enabling precise and efficient handling of massive goods through Odoo Moove shop floor application.

Picking is the first step to collect the goods. It's not done by customer order (as Odoo proposes it), but by product to go only once per location and reduce the average distance per pick position.
Consolidation is the second step where someone aggregates all the available products by customer order, usually on 1 or more pallets.
Move the customer order to quality control area
Quality and quantity control per customer order
Pack the goods, call carrier API, retrieve and print the labels
Load the truck

Fast labeling for Pre-packaged Goods: Simplifying the process for pre-packaged goods, ensuring swift and accurate labeling operation.

Batch picking to collect the goods. It's done as well by product to go only once per location and reduce the average distance per pick position.
Labeling. As the goods are "pre-packaged", one pack is for one customer so we can be very fast here
Load the truck
As all flows run in parallel, the customer who ordered "pre-packaged" goods alongside other massive products will receive them all in the same truck. Of course, inside the warehouse operation, the two types of delivery have followed their own most efficient flow.
Looking Ahead
As we celebrate this go-live day, we not only relish our smooth transition but also the triumph over complexity, showcasing the true potential of Odoo Moove in managing sophisticated warehousing needs.
Thank you for being a part of this journey with us as we forge ahead with innovations that redefine warehousing solutions.
Get in touch to learn more about Odoo Moove
Career
Interested in working in an inspiring environment and joining our motivated and multicultural teams?